Electrician Atlanta GA
Need to carry out some basic electrical repairs or maintenance?
Our Atlanta handyman team are on hand at all times to repair or replace electrical fittings, change light bulbs, transformers, switches, sockets, replacing light fittings, fitting and repairing door bells or just simply fault finding any time day or night including emergency situations.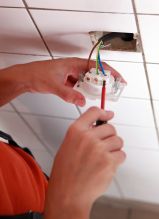 Our Atlanta handyman team are highly competent at dealing with these basic electrical jobs proficiently and cost effectively. Although we don't carry out work that needs to be notified to building control regulatory. This would include installation of new circuits and alterations to existing circuits; however we do have affiliate electricians who can carry all work that deal with 'notifiable' work. Please contact us for more details
Whatever your requirements are, we will find the right solution at a sensible, value for money. All our Atlanta handymen are professionals who understand that our success depends on providing excellent customer service whilst being friendly, reliable and precise with every last detail whilst carrying their work. We can replace light bulbs, extractor fans, light fittings, sockets, switches and transformers amongs many of our electrical services. We are also able to repair, fit and assemble almost anything that is electrical.
To find out more call us NOW at (678) 593 3221)

Electrical Services for Residential & Businesses
For Homes

Install & repair light fittings
Replace sockets
Replace extractor fan
Replace or fit door bell
Installaing new power/light points
Replace light bulbs

and more
For Businesses
Replace light bulbs
Portable appliance testing
Replace switches, sockets, extractor fans and transformers

and more
For Landlords

Install new power/light points
Tidy electric cables and wires
Fault finding

and more