Plumber Atlanta GA
Atlanta Handyman offers plumbing services amongst many other services. Our Atlanta Handymen deal with all the basic plumbing repairs that specialist plumbers aren't always available & geared up to, such as dripping taps, leaking pipes, blocked internal pipes, bleeding radiators, changing taps faulty toilet cisterns, leaning bath taps. We also fit washing machines & dryers, and will even just fit a toilet seat.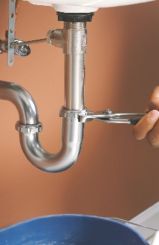 We are available to ensure a professional finish, even at short notice for all your plumbing needs 24/7.
All our plumbing handy men are armed with the most comprehensive tools, and Atlanta Handyman is an expert at carrying out plumbing work efficiently, professionally and cleanly.
All our Atlanta handymen are experienced and experts at their jobs, and whom understand that our success depends on them providing excellent customer service that is friendly and shows that we care about every detail of their work and customer relations, including the price.
Whether you are looking for minor repair, leaking taps, installation of new taps or even new bath remodeling, it's not a problem! Simply give us a call NOW on (678) 593 3221 to find out more.

Plumbing Services for all Residential & Businesses
For Homes

Filling cracks and holes in plaster and woodwork
Re-sealing bathrooms and kitchens
Painting and tiling
Making good damaged paint/plaster
Installing new baths, sinks, basins, showe and tiling

and more
For Businesses
Repairing/renewing old grout
Patch plastering walls and ceilings
Re-sealing worktops, sinks, basins, baths and shower trays

and more
For Landlords

Painting woodwork, walls and ceilings
Tilling and grouting (including replacing and re-grouting existing tiles)

and more